The Living Danube Tour stops in Serbia in August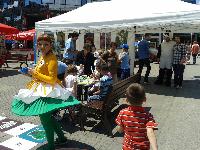 It will be in Novi Sad, Sombor and Backi Monostor
The educational road show is going to be in three Serbian towns: Novi Sad (6 August), Sombor (7 August) and Backi Monostor (8 August) before returning to Hungary for some final events whose dates are to be determined. The show kicked off in Hungary in March and then visited Slovenia, Bulgaria, Romania and Croatia. Last year, the tour was in Croatia, Hungary and Serbia.
Living Danube Tour visitors hear stories about rivers: What keeps them healthy and what destroys their balance, what species live in them, what puts their lives at risk and what a destroyed river balance means for people – depleted freshwater resources, reduced climate change mitigation, flood protection and food resources. The tour is sponsored by Coca Cola and is part of a seven-year partnership that aims to restore vital wetlands and floodplains along the Danube.
During the tour, children play interactive games and learn about various river inhabitants, the difficulties they face in their daily lives, like pollution, and what WWF and they themselves can do to help animals and plants survive. They also order a giant puzzle representing Danube species and answer questions about them. The ones who do best are awarded badges and stickers.
Besides visiting the roadshow, people can also learn about rivers by playing the Living Danube online game, which is in 5 languages – English, Bulgarian, Hungarian, Romanian and Serbian. The game leads you through the major dangers facing rivers.
No comments added yet