The Living Danube Tour goes around Romania in June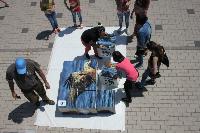 Copyright WWF Romania
Five cities will be visited in the next ten days
WWF's Living Danube Tour reached Romania today, one of the 5 countries in Central and Eastern Europe which it would visit. Visitors can learn more about river inhabitants, but also what keeps rivers healthy and what destroys their balance, putting species and people at risk by depleting water resources and reducing climate change, flood protection and food resources.

The tour is part of a seven-year partnership of WWF and The Coca-Cola Company aiming to restore vital wetlands and floodplains along the Danube.

At the tour children play interactive games and learn about various river inhabitants, the difficulties they face in their daily lives, like pollution, and what everyone can do. Kids can play with a giant puzzle representing Danube species and answer questions about them. The ones who do best are awarded badges and stickers.

The Living Danube Tour in Romania stops in:

- Drobeta-Turnu Severin, 3 June
- Bucharest, 5-6 June
- Constanta, 9 June
- Tulcea, 11 June
- Mahmudia, 12 June

Later in June the Living Danube Tour will continue to Croatia.
No comments added yet